Author Archive | Chelsea McFarland
March 3, 2015
Check out this cool site—Wildflower.org—lots of great native plant descriptions/photos!
February 27, 2015
by Anna Hunt via truththeory.com

One of the most natural foods in the world, honey has many uses and benefits the body in many different ways. Many of us think of honey as a nutritional natural sweeter – a great replacement to processed white sugar – and as a flavor enhancer in dressings and sauces, but in addition honey has been used worldwide since ancient times for its medicinal properties.
Honey's Medicinal Properties
Honey is an effective treatment for many health conditions. It is rich in antiseptic and antibacterial properties, making it a great alternative to topical antibiotic ointments, which are starting to be less and less effective due to the rise in antibiotic resistant bacteria. It is also great for respiratory ailments, especially symptoms of cold and flu such as sore throat and cough. Furthermore, honey contains flavonoids and antioxidants, two essential elements needed to aid in the prevention of cancer cell growth. With skyrocketing cancer rates, honey can be a beneficial component of your daily cancer prevention regimen.
Honey's composition consists of equal parts fructose and glucose that have bonded with water molecules. This means that each serving of honey gives your body a natural energy boost. Additionally, honey's antibacterial and antifungal properties may help reduce gastrointestinal disorders. Your skin can also benefit from honey. Its antibacterial properties make it an effective moisturizer that will nourish the skin, especially when combined with other ingredients such as apples or cucumbers. Honey can also help some unpleasant skin ailments such as acne and sores.
The Creative Honeybee
It may surprise you that there are over 300 unique types of honey available in North America and thousands of varieties worldwide. Honeys differ in color, flavor and aroma depending on the nectar source of the flowers visited by the honeybees. Lighter honeys such as Alfalfa and Clover usually have a milder flavor and are considered a great natural sweetener for everyday use, while darker honeys such as Manuka, Avocado and Buckwheat can be quite robust and rich in flavor.
Lab testing shows that different types of honeys differ in their vitamin and mineral content, because each honey has a unique compilation of nectars. Similar to wine, honeys of a specific type can even vary year to year, depending on the climate, temperature and rainfall.
If honeybees are predominantly visiting a certain type of plant, then they will produce a specific honey variety. Each variety is packed with certain levels of nutrients, thus giving different honeys different healing properties. Yet, many honeys – even specific varieties – include a blend of nectars because honeybees are quite intelligent when it comes to which flowers they visit. They collect nectar of certain flowers because of the vitamins and minerals that will give them a balanced diet and a mix of needed phytochemicals (biologically active compounds produced by plants). Honey manufacturers will also add different honeys to a specific honey type to meet certain qualities. For example Sage honey is blended with other varieties to slow down granulation because it is extremely slow to granulate.
Healing Honey Varieties
Although all honeys have some of the same medicinal properties, certain honeys have shown to alleviate specific health problems and have been used as natural medicines for ages. The following honeys have become quite popular over the last few years and now are somewhat easy to find:
1. Acacia honey is created from the nectar of the Black Locust blossoms (Robinia pseudoacacia). Its high fructose and low sucrose content make it a great choice for diabetics. Acacia honey is known for its therapeutic effects such as cleansing the liver, regulating digestive processes especially in the intestines, and reducing inflammation in the respiratory system.
2. Eucalyptus honey comes in many varieties because Eucalyptus is one of the larger plant genera with over 500 species, hence Eucalyptus honeys can vary in color and flavor. Its origin is Australia but it is now also produced in California. Traditionally, Eucalyptus honey has been used to protect against colds and headaches. With a hint of menthol flavor, it can be quite effective in alleviating mild cough, chest congestion and other cold symptoms. Furthermore, Eucalyptus honey has also been widely used as a topical treatment or blended in natural topical medicines for healing wounds, ulcers, burns, sores and abrasions, as well as for insect bites and stings. Its anti-inflammatory properties make it beneficial in relieving muscle and joint pain when massaged into the skin.
3. Linden honey, most commonly recognized in Northern Europe where Linden trees (Tilia) are planted in city parks and gardens and along the roads, is known for its light yellow color and delicate woody scent. It has slight sedative properties, therefore it is recommended for anxiety. It can also aide with insomnia if used in a bath before bedtime. Its antiseptic properties make it a natural treatment for colds, cough and other respiratory ailments such as bronchitis.
4. Manuka honey is collected from the flowers of the Tea Tree bush (Leptospermum), found in the coastal areas of New Zealand. This type of honey has strong antibacterial properties thus making it an effective elixir for digestive problems such as stomach ulcers and indigestion, for symptoms associated with colds such as sore throat, and for skin problems such as acne and pimples. The taste of Manuka honey can be quite robust, but it will vary depending on which brand you buy so if you don't like one, try another.
5. Neem honey is a popular Ayurvedic treatment and can be commonly found in India where Neem trees (Azadirachta indica) are common. It is used to lower high blood pressure, diabetes, skin problems, allergies, dental illnesses, and throat infections.
In addition to buying raw and, if possible, organic honey, many natural products are now available, especially for skin care, that come pre-blended with these honey varieties. Some of my favorites include Wild Ferns Manuka Honey Facial Care products and Amazing Ayurveda cleansers.
There are many other wonderful honey varieties that are perfect for cooking, baking, salad dressings and so forth. Some common ones include Alfalfa honey, Avocado honey, Clover honey, Blueberry honey and Orange Blossom honey, although, once again, there are thousands of honey varieties. If you haven't found something that suits your needs, keep exploring.
Sources:
http://naturehacks.com/natural-food/how-raw-honey-is-the-ultimate-survival-food/
http://www.motherearthliving.com/health-and-wellness/natural-remedies/honey-as-medicine-zm0z14ndzhou.aspx
http://www.honey.com/honey-at-home/learn-about-honey/honey-varietals/
February 23, 2015
By John Holland via modbee.com
Almonds are among the top-grossing farm products in the Northern San Joaquin Valley and statewide, and the largest users of commercial colonies in the nation each year. About 1.7 million bee boxes are delivered to the orchards for the pollination, which runs from mid-February to mid-March.
Beekeepers expect to lose some of their colonies each winter, but many have had much larger losses in recent years. Researchers say the causes could include diseases, parasites, trucking stress, pesticides or poor nutrition where drought has reduced flowering plants. Even when rain is abundant, winter does not provide much food.
"Those are times of dearth for bees, when there isn't much for them to eat," said Heintz, who works out of Tucson, Ariz., and previously was with the Almond Board of California, based in Modesto.
Heintz talked about the effort during a visit Wednesday to Silveira's orchard, on 40 hilly acres along Twenty-Six Mile Road. The seeds he sowed came free from Project Apis m., which operates on about $100,000 in grants each year. The mix includes a few varieties of mustard, which put out yellow flowers before the almond bloom, and clover, which bear red, white or purple flowers afterward.
Heintz said the diverse food in the orchard, combined with nearby drinking water, "is exactly what we need. This is a bee spa."
Almond blooms still are the favored food for the bees, she added, and they will not fill up on the supplemental plantings at the expense of pollinating the crop.
The effort so far covers only about 3,000 of the 860,000 acres of almonds in California, but Heintz said she would like to see it become a common practice. She is collecting data on how the supplemental food sources affect nutrition, colony population and other factors.
Silveira has taken part for two years. He said some almond growers might worry about these plants taking soil moisture from the trees, but that has not been a problem. He also noted that the mustard and clover protect the ground from erosion and take up nitrate from fertilizer, reducing the risk of tainted groundwater.
Silveira plans to mow the plants when the flowering in done, so they will decompose well in advance of the almond harvest. The nuts are shaken to the ground by machines, and growers do not like to have too much debris lying there.
Silveira rented the colonies from Hughson-area beekeeper Kevin Peavey, who is taking part in the effort for the first time this year.
"The bees are going to have more pollen and nectar to gather," Peavey said. "The more they are fed, the stronger they are."
Bee staff writer John Holland can be reached at jholland@modbee.com or (209) 578-2385.
$18 billion: Estimated worth of U.S. crops pollinated by honeybees and other creatures each year. About a third of that is in California, including almonds, cherries, apples, apricots, plums, kiwis, avocados, alfalfa seed, onions, broccoli, cucumbers, melons and squash.
$2.3 billion: Estimated gross income to almond growers in the Northern San Joaquin Valley in 2013.
1.7 million: Number of commercial honeybee colonies rented to California almond growers each year, two-thirds of the U.S. supply.
Sources: American Beekeeping Federation, county crop reports
Project Apis m. has free seed for almond growers hoping to supplement the food available to pollinating honeybees. Send an email to projectapis@gmail.com. Other interested people can learn about the effort at http://projectapism.org.
Read more here: http://www.modbee.com/news/local/article10897667.html#storylink=cpy
February 17, 2015
via Todd Woody | qz.com
As we've written before, the mysterious mass die-off of honey bees that pollinate $30 billion worth of crops in the US has so decimated America's apis mellifera population that one bad winter could leave fields fallow. Now, a new study has pinpointed some of the probable causes of bee deaths and the rather scary results show that averting beemageddon will be much more difficult than previously thought.
Scientists had struggled to find the trigger for so-called Colony Collapse Disorder (CCD) that has wiped out an estimated 10 million beehives, worth $2 billion, over the past six years. Suspects have included pesticides, disease-bearing parasites and poor nutrition. But in a first-of-its-kind study published today in the journal PLOS ONE, scientists at the University of Maryland and the US Department of Agriculture have identified a witch's brew of pesticides and fungicides contaminating pollen that bees collect to feed their hives. The findings break new ground on why large numbers of bees are dying though they do not identify the specific cause of CCD, where an entire beehive dies at once.
When researchers collected pollen from hives on the east coast pollinating cranberry, watermelon and other crops and fed it to healthy bees, those bees showed a significant decline in their ability to resist infection by a parasite called Nosema ceranae. The parasite has been implicated in Colony Collapse Disorder though scientists took pains to point out that their findings do not directly link the pesticides to CCD. The pollen was contaminated on average with nine different pesticides and fungicides though scientists discovered 21 agricultural chemicals in one sample. Scientists identified eight ag chemicals associated with increased risk of infection by the parasite.
Most disturbing, bees that ate pollen contaminated with fungicides were three times as likely to be infected by the parasite. Widely used, fungicides had been thought to be harmless for bees as they're designed to kill fungus, not insects, on crops like apples.
"There's growing evidence that fungicides may be affecting the bees on their own and I think what it highlights is a need to reassess how we label these agricultural chemicals," Dennis vanEngelsdorp, the study's lead author, told Quartz.
Labels on pesticides warn farmers not to spray when pollinating bees are in the vicinity but such precautions have not applied to fungicides.
Bee populations are so low in the US that it now takes 60% of the country's surviving colonies just to pollinate one California crop, almonds. And that's not just a west coast problem—California supplies 80% of the world's almonds, a market worth $4 billion.
In recent years, a class of chemicals called neonicotinoids has been linked to bee deaths and in April regulators banned the use of the pesticide for two years in Europe where bee populations have also plummeted. But vanEngelsdorp, an assistant research scientist at the University of Maryland, says the new study shows that the interaction of multiple pesticides is affecting bee health.
"The pesticide issue in itself is much more complex than we have led to be believe," he says. "It's a lot more complicated than just one product, which means of course the solution does not lie in just banning one class of product."
The study found another complication in efforts to save the bees: US honey bees, which are descendants of European bees, do not bring home pollen from native North American crops but collect bee chow from nearby weeds and wildflowers. That pollen, however, was also contaminated with pesticides even though those plants were not the target of spraying.
"It's not clear whether the pesticides are drifting over to those plants but we need take a new look at agricultural spraying practices," says vanEngelsdorp.
[read original article via qz.com]
February 16, 2015
Check out all the buzz about Gumuchian "B" Collection!!
A portion of the proceeds of all sales will go to HoneyLove.org!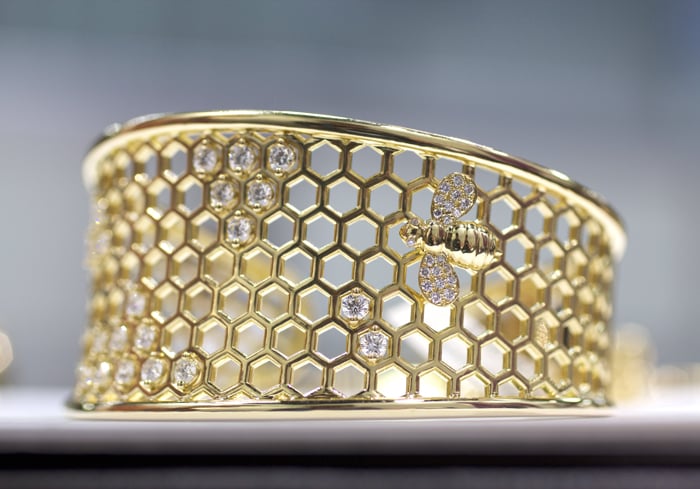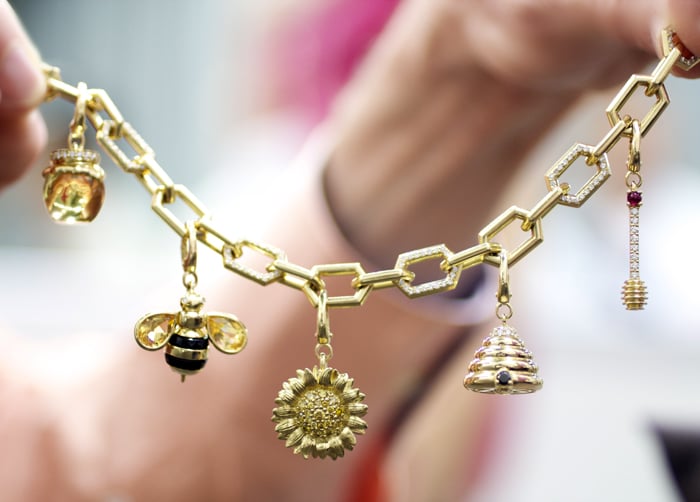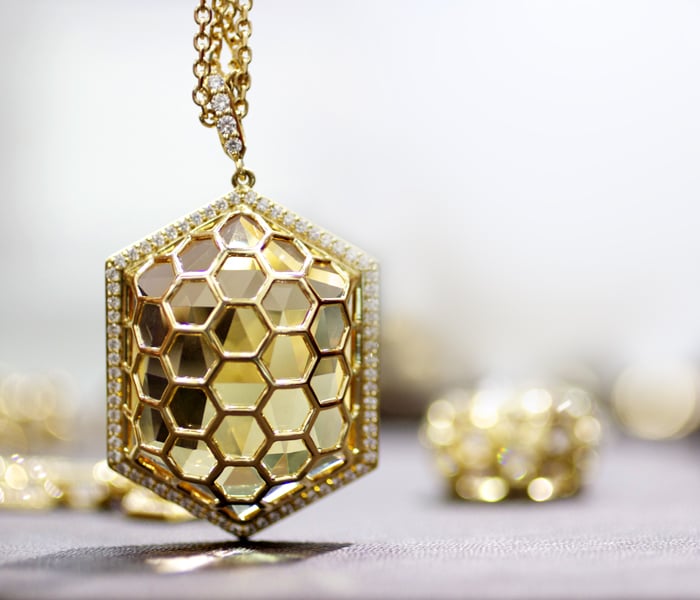 Photography courtesy of Erika Winters from Pricescope
PRESS:
http://obsessedbyjewelry.com/celebrate-national-honey-bee-day-gumuchian-jewelry-cause/
http://www.cijintl.com/In_The_Press-6076.html
http://jewelrynewsnetwork.blogspot.com/2014/05/gumuchians-jewelry-is-for-bees.html
http://instoremag.com/homepage/shine-news/13854-new-gumuchian-collection-highlights-bees
http://jogsshow.com/gem-jewelry-news/honor-black-yellow-friends/
http://www.jckonline.com/blogs/style-360/2014/05/16/debuting-in-las-vegas-gumuchians-b-collection-bee-theme-gold-jewelry?utm_source=JCK%20eNewsletters&utm_campaign=61b72045d4-2014_05_16_Fashion_Friday&utm_medium=email&utm_term=0_56301e74d4-61b72045d4-333952953
http://americangemsocietyblog.org/2014/06/14/jewelry-with-a-cause-gumuchian-creates-awareness-for-honeylove/
http://blog.sina.com.cn/s/blog_988dcd240101irgg.html
http://adornmentality.com/2014/05/28/jewelry-week-in-sin-city-who-you-should-see-part-3-jck/
http://www.pricescope.com/blog/whats-buzz-gumuchians-new-b-collection-stunned-jck-2014
http://blog.nationaljeweler.com/2014/05/the-baubles-and-the-bees.html
http://www.jckonline.com/2014/07/15/gold-bee-inspired-jewels-and-silicone-supported-bangles
http://news.centurionjewelry.com/articles/view/brand-news-from-gumuchian-frederic-sage-forevermark-and-precision-set
http://www.epageflip.net/i/359465   Page 28
http://www.jckonline.com/blogs/on-your-market/2014/08/05/britts-pick-gumuchians-b-honeycomb-medallion-pendant
http://www.jewelsdujour.com/2014/05/the-bees-knees-gumuchian-b-collection/
http://obsessedbyjewelry.com/celebrate-national-honey-bee-day-gumuchian-jewelry-cause/
February 12, 2015
Public Hearing Notice: Backyard Beekeeping Draft Ordinance
All interested persons are invited to attend a public hearing for a proposed City of Los Angeles Zoning Code amendment to allow backyard beekeeping in single-family residential zones. At the hearing, you may listen, speak, or submit written information related to the proposed ordinance. This is the first in a series of public hearings regarding this proposed ordinance as it moves on to the City Planning Commission, Planning and Land Use Management committee of the City Council, and City Council.
PLACE: Los Angeles City Hall, Room 1010, 10th Floor – 200 N. Spring St, Los Angeles, CA 90012
TIME: Thursday, March 19, 2015 at 2:00 pm
Please see the link below to the public hearing notice, Q&A and draft ordinance for more information.
http://goo.gl/gpZHWQ 
For more information, please contact staff:
Katie Peterson
KATHERINE.PETERSON@LACITY.ORG
213-978-1445
January 9, 2015
2015 NORTH AMERICAN BEEKEEPING CONFERENCE & TRADESHOW

A few of us HoneyLovers went down to the opening day at the American Beekeeping Federation Convention in Anaheim, held at the Conference Center of the Disneyland Hotel. It was a big and corporate-filled world compared to our hobbyist, urban beekeeper ways (The California Almonds® and Bayer CropScience Bee Care Center had booths). The big equipment suppliers were there, as well: Brushy Mountain, Kelley, Mann Lake and Dadant, along with a few smaller companies like Blue Sky Bee Supply. We picked up a few fresh suits for Sunday mentoring.
The big equipment suppliers were there, as well: Brushy Mountain, Kelley, Mann Lake and Dadant, along with a few smaller companies like Blue Sky Bee Supply. We picked up a few fresh suits for Sunday mentoring. There were the standard displays of beek tools (like a dandy 10" smoker or steel entrance rounds) along with a one-handed Queen catcher and marker gizmo. Forklifts, extractors the size of Smart cars and treatment booths were plentiful along with solo entrepreneurs with the latest new bee vac waiting for the world to beat a path to their doors.
There were a few choice t-shirt vendors, fancy honey labels and jars, wax blocks and fire starter pellets, too. The ABF breakout sessions were largely designed for the commercial beekeeper such as honey bottling management and Queen breeding.
As with most things bee-related, it was the people who were captivating, as well. We met David Hackenberg, a beekeeper from "Vanishing of the Bees" and the BeeMan.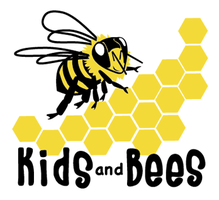 Rob McFarland from HoneyLove will be back down to NAB Friday morning (today!) from 9:00-Noon, when elementary-aged kids are welcomed to The Disneyland Resort to participate in the "Kids and Bees" program led by Sarah Red-Laird (BeeGirl).
This no-charge event has been a tradition with the ABF conference for over 20 years, and is a "don't miss" opportunity for school groups, home schooled kids, scouts, and clubs. Kids and their teachers or parents can expect a room full of hands-on activities under the themes of, "The Art of Beekeeping," "The Science of Beekeeping," "The World of Beekeeping," and "The Future of Bees: It's Up to You!" Favorites such as beeswax candle rolling, bee finger puppet making, and hive displays will be there. The highlights this year will be face painting, a photo booth with costumes, and an ultraviolet "Bee View" demonstration. Students will make their way through each station, engaging with beekeepers and Honey Queens from around the US, and activities that will harness their senses and imaginations. For up-to-the-minute details check out BeeGirl's Kids and Bees facebook page here!
Conference runs through Saturday afternoon. Check the event schedule before you go—tickets available at the door.
nabeekeepingconference.com
December 15, 2014
via HoneyLover Susan RudnickiHave you ever wondered how our local, LA Urban beekeeping differ from other areas of the country? I just read the other day that beekeepers in Wales expect about 25 pounds of honey per year on their hives—33 pounds is a bumper crop!   This does not seem like much. Our bees are active year 'round, making brood, honey and drones. This growth is very different from temperate climate bees and, as well, we are using Africanized hybrid ferals—a relatively rare population to survey. We now have a opportunity to participate in amassing data on our specific niche by the generosity of HoneyLove who purchased the
SolutionBee Hive scale
for me to monitor a hive in my backyard garden.
The project is managed by
BIP
(the Bee Informed Partnership)  and the hive data is automatically sent to their website as well as the SolutionBee team, the manufacturers of the hive scale (purchased from Brushy Mountain). The colony I selected came from a large swarm hived on April 27, 2014 which has proven to be super productive and nicely behaved. They now occupy 3 deep boxes and 2 mediums after seven months and have produced 60 pounds of honey.  I have also raided their brood nest for frames of brood for weak nuc hives. They are VERY strong bees and a pleasure to work.
The goal of the project is summarized below, as taken from the initial offering to participate sent out by BIP. I am having great fun with this, watching my bee's growth graph going ever upward in weight gain. For the first time I am also having to learn how to use a cell phone—my son's iphone—as the data recording and uploading device. Arghh!  —this is not my strong suit.
The Bee Informed Partnership is dedicated to helping beekeepers make informed data-based management decisions. Monitoring weight changes in colonies has huge potential to help us understand disease and parasite population growth, as well as the timing of management practices. We are seeking some innovative beekeepers who are willing to help us develop and beta test the hive scale tools' ability to develop a system that will provide the best regionally specific management practices based on real time data. We are collaborating with NASA's Honeybee Net, under the direction of Wayne Esaias, to test this exciting effort.
Why hive scales?
Hive scales weigh individual colonies at regular intervals, keeping track of strong nectar flows, swarming, and other conditions that affect management decisions.  Beekeepers may respond to rises in weight by putting supers on, inspecting colonies for swarm cells, and extracting full honey supers. Conversely, weight loss may indicate a need to feed colonies, robbing or indicate the colony has swarmed and is at increased risk of becoming queenless.
With new digital hive scales, beekeepers can track the weight of colonies without having to do a hive inspection. The scale we are using for our beta testing will utilizing Bluetooth with an Android device (e.g., Android phone or tablet), and a visit to the apiary is required to read the data. The data can be viewed on the device or be uploaded via cellular or WIFI communication. However, in the future these same scales when used with a data collector will allow for data to be automatically uploaded via cell phones or cell phone service data plans that allow for remote monitoring.
Armed with data from hive scales and other disease monitoring efforts, the Bee Informed Partnership hopes to make predictive models of honey flows and disease population growth. These models will help us develop an "alert system" that will make management recommendations based on real-time and regionally specific data.
As to my particular case,  I don't expect the disease/pest monitoring aspect will be so relevant to my bee population. The varroa mite has not been a great destroyer of my bees in the past and they seem to manage the pest well on their own. When Spring comes, it will be interesting to observe the growth of the brood nest and respond with management techniques to overcome swarming tendencies.   One thing is sure—that time will be sooner than any other part of the country.
Help us save the honey bees!!
Donate to HoneyLove.org
Your contribution directly supports the educational outreach, community action and advocacy efforts to protect the health and well-being of honey bees. HoneyLove is a 501(c)(3) tax exempt organization. Your donation is 100% tax-deductible.
HoneyLove's Etsy Store!!
No items to display