RESCUE UPDATES:
– February 2, 2013 –
Thanks so much to all our amazing donors! We're incredibly grateful for your support and inspired to get out there and save bees! Check this page for updates on our bee rescue campaign and the new honeybee sanctuary we are building in Topagna!
Our most heartfelt gratitude goes out to:
Al McDermid, Alberto Martinez, Alex Manugian, Alex Smith, Alexandra Lill, Alitza Blough, Amparo Jelsma, Angelica Garcia, Ann Sprayregen, Anna Shinoda, Anne Clare, Annie Finch, Ashley, Bill Salchow, Bram, Brent Roose, Carol, Caroline Copeland, Catherine Cripps, Ceci Carmichael, Ceebs Bailey, Charlie Brown, Cherie Maharam, Chris Young, Christine Dickson, Claire Wiggill, Clare Padgett, Conley Lynch, Coralie Nellhard, Corinne Sykes, Courtney Sheets, Cynthia Costell, Dana  Horton, Dana Wong, David Maddox, Dawn McDonald, Denise Aldelia Ward, Diana Frank, Diane Isaacs, Donna Dale, Donna Lomp, Dustin Hiles, Eddie Smith, Edward Brune, Elana Millman, Elena Darrigo, Elena Latoni, Elise Assaraf, Elise Dwortzan, Elizabeth Allancorte, Elizabeth Murray, Elizabeth Ryerson, Emily Miller, Eric Lane, Erica Gassmann, Erin Harris, Esther Harrington, Esther Thomsen, Eufemia Scarfone, Evan Geerlings, Gail, Gale F. Nattiel, Genelle Buchert, Gina Koebli, Grace S. Chen, Hanna Vandenbulcke, Heidi Baird, Hoang Huynh, Holly Mosher, Ilana, Jaclyn Sweet, James Lewis, Jan Percival, Janet Zampieri, Janis McMahon, Jean Saja, Jeff and Pauline Plissner, Jeff Oberdorfer, Jeff Odell, Jen Gordon, Jenna Burgener, Jennifer Lung, Jessica Fleischmann, Jill Steinberg, Joan Dinowitz, Joanna Jones, Joanna Koch, Joanne Wallis, Joe, John Rodriguez, Jon Richter, Joyce Rossel, Judy Clarke, Julia Gay, Julia Steinberg, Julie Davenport, Julie Michelle, Karen Igou, Kari Aist, Karin Parramore, Karina Green, Katz Farm, Albert Katz, Kei Kurimoto, Kelley Wallace, Kelly Smith, Kelsey Eide, Kenneth Nieuwenhuis, Kevin Brennan, Kim Klymer Kelley, Kim Smith, Kimber Lockhart, Larry W Fifer, Laurenn Barker, Lenore Flanders, Lindsey Larson, Lisa Mabley, Lisa Vincenti, Lisa Y. Mitchell, Lissa Callirhoe, Lorelei Munger, Lori Detwiler, Lorie Pagan, Malek Hussein Manan, Mandy Gavenda, Manuel Hernandez, Margaret Dunn, Maria Bucar, Mark Stolaoff, Mary Krisor, Mary Price, Matthew Lipschik, Meei Ling Ng, Melanie Craft, Melissa Barron, Michael Gray, Michele Sanders, Michele Stofka, Michelle Marsico, Michelle Phillips, Mieka Ginsburg, Mirna Pacheco-Walker, Molly L Graver, Nancy Baker, Nancy Cannon, Nick Cooper, Nicole Bussard, Pamela Calvert, Patricia McGrath, Paul Martin, Peggy Hesketh, Peter Barnett, Pilar Law, Prakash Mackay, Rachel Foushee, Raymond Blakemore, Rebecca O'Brien, Reena Rexrode, Rich Ferguson, Richard Piscuskas, Robyn Kermes, Rodney Williams, Roxanne Tupper, Sabrina van Engelen, Sally Garber, Sara and Terri Gibbons, Sara Hancock, Sara Roberts, Sarah Carlyle, Sarah Lord, Scott Schmidt, Shelby J. Barwood, Sheri Fox, Shirley Sukhanil, Sonja Tilbury, Stephen Williams, Stephon Litwinczuk, Steve Rousso, Stewart Lundy, Susan Bill, Sylvia Warnotte, Tara Snowden, Terri Daffern, Theo Greenly, Tim Brady, Tony Durso, Warren Doi, Will Roberts, William Salchow
__________________________________________________
__________________________________________________
Hello Everyone!!
Thanks so much for your amazing support. We are thrilled with the success of our campaign and incredibly grateful for your generous help. Even though we did not quite reach our target dollar amount – we are still confident we will be able to SAVE A MILLIONBEES as a result of the funds we've raised.
We're just putting the lists together for the different reward categories and will be in touch very soon via email about getting you the sweet perks we're happy to share.
And we're off to a buzzing start – having already rescued 5 bee colonies – equalling about a hundred thousand bees!! We'll be posting more pics and updates as we go.
Wishing you all a joyous and magnificent 2013!!!
In Gratitude,
George Langworthy & Rob McFarland
__________________________________________________
__________________________________________________
Thanks so much for your wonderful comments in support of our efforts and appreciation for the bees!! We are truly honored to be in service to the beautiful honeybee and protecting this vital species and the health of our environment.
As we reach the final hours of our campaign – your help spreading the word would be greatly appreciated. Please share a link on Facebook or email your friends. And remember – all donations are tax deductible!
Once the campaign ends we will be in touch about your rewards and with further news on our rescues – which are already underway!
Sending gratitude and wishing you all a Very Happy New Year and wonderful 2013.
Sweetly,
George Langworthy
__________________________________________________
__________________________________________________
Thanks for all your contributions and heartwarming comments. I did another bee rescue last night which makes for a total of one hundred thousand bees saved so far!!
I had a request for information on natural non-toxic pesticides. We list several good sites on our Vanishing of the Bees page on this very topic – follow the link below. You might have to cut and paste. Thank you soo much and bee well!
http://www.vanishingbees.com/natural-pesticide-…
__________________________________________________
__________________________________________________
Hey Bee Friends!!
Thanks so much for your support! We are super encouraged and happy to see people's enthusiasm about keeping bees safe and healthy. Please share our campaign with your friends!!
We are happy to say that our bee saving has begun and we have done two successful rescues so far. This picture from one of the rescues shows the hive in the foreground and the wall in the background where the colony was living – which is set to be demolished next week! The hive has been since moved to it's safe new home and they are healthy and thriving. We look forward to sharing more good news with you as we continue our rescues!
Be Well,
George
The Bee Saving Has Begun!!!

__________________________________________________
__________________________________________________

Our Story & Inspiration
George Langworthy and Rob McFarland of HoneyLove.org are joining forces to save a Million Bees in the spring of 2013. And we're putting forward this fundraising campaign as a vital first step to our efforts.
We've both been out saving bees that would otherwise face extermination and relocating the hives at Bee Sanctuaries. But the time involved and cost of equipment has been holding us back from going out and rescuing as many hives as are out there in need of our help.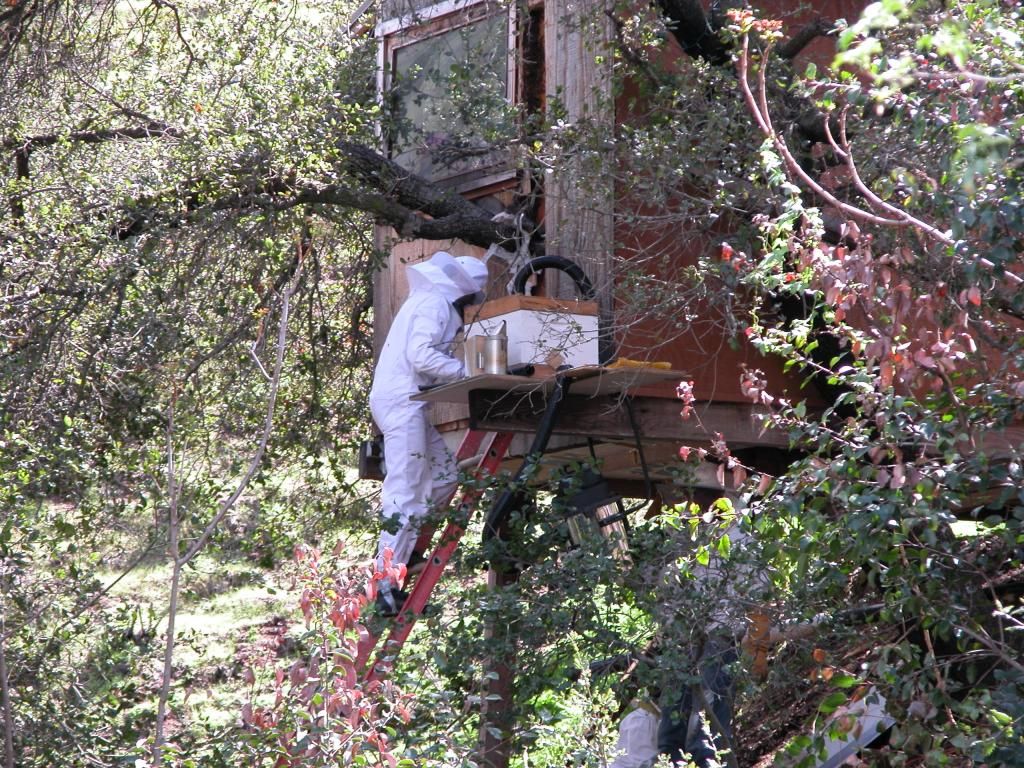 Rescuing a Million Honeybees
Our plan is to rescue 50 bee colonies in Southern California. With 20,000 bees per hive – this makes for a million bees! It's a big job and your support is crucial. By helping with donations to this fundraising drive you are literally saving the lives of honeybees – and you can choose from a host of sweet rewards. Of course the biggest reward is knowing you have done something that will truly help bees and our environment.
The use of the funds raised is very simple. The money goes to purchase equipment, pay for gas, and afford the significant time it takes to rescue bee colonies and relocate them. Our funding drive allocates $350 for every hive that we save.
Many companies charge upwards of $500 to remove bees without killing the colony. And since homeowners and other friends of the bees often can't afford this – we'll be coming in to help and save the bees. Our beekeeping practices are strictly organic, holistic, and in keeping with the natural order of the hive. And we'll be ensuring a healthy life for the rescued colonies by placing them on Organic Farms, at Bee Sanctuaries, and in Organic Gardens. Your support is what makes it possible for us to get out there and save bees.
With our respective track records, you can rest assured that we'll find success in our efforts and can see a fun bee rescue in our campaign video. Visit the HoneyLove.org website to find out more about Rob's non-profit organization. Or go to www.vanishingbees.com to learn about George's documentary on the health crisis facing bees today and what we can do about it.
Helping Bees Every Day
It's easy to help bees in your every day life with simple actions that promote your own health as well as the health of our environment.
1 – Vote With Your Fork.
Buying organic produce helps nurture the food systems that take care of bees and the environment.
2 – Stop Home Pesticide Use.
Natural pest remedies are safer, more effective, and less expensive than toxic chemicals. Get rid of the pesticides in your cabinets, garages, and lawns.
3 – Plant A Garden.
Grow yummy food, delicious herbs, and beautiful flowers. It improves your health and helps the bees. Even people in apartments can grow food in planters or raise a window garden!
4 – Raise Awareness.
The first step to activate change is education. Let people know about the bee crisis and what they can do to help.